The Hobie Pro Angler 17 T is a superb-looking sit-on-top, angling, solo/tandem kayak. With changeable stance seats and a bi-pedal paddling system, it is your ideal weekend fishing kayak.
This vessel is able to combine comfort, efficiency, space, and multiple functionalities to give the paddler an unforgettable experience. The Hobie Pro Angler 17 T is one of the best angling boats you can use to enrich your family's fishing experience. Get your child, place them on the extra seat and show them how to fish for the first time.
Check out the Hobie Pro Angler 17T on Amazon!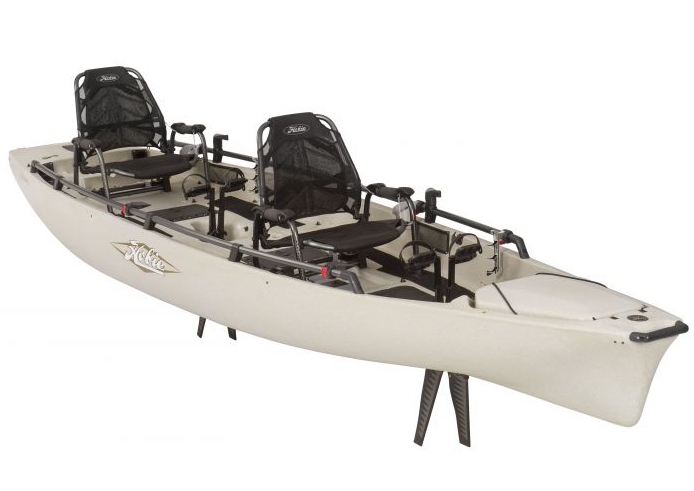 [Check out our other Hobie articles: Hobie Pro Angler 12 Kayak, Hobie Pro Angler 14 Kayak, Hobie Adventure Island Sailing Kayak, Hobie Tandem Kayak!]
Frame of the Hobie Pro Angler 17 T
The hull of the Hobie Pro Angler 17 is made of rotomolded polyethylene, which gives it a lightweight, but sturdy frame. The material prevents the kayak from cracks if it hits rocks and pebbles, and it is also UV-resistant.
Measuring 17′, the kayak's length creates enough space for an expansive cockpit, as well as sufficient storage spaces. The Hobie Pro Angler 17 T has a width of 43.5" provides it with enough buoyancy to withstand the windy conditions you are likely to encounter during a fishing expedition.
Furthermore, with such stability, you are safe while in a standing position to reel in that struggling catch, without unnecessarily rocking the vessel.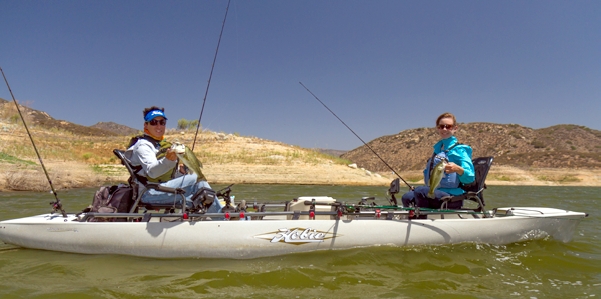 A standard, fully fitted hull will have the Hobie Pro Angler 17 weighing 206.5 lbs. Adding a few features, such as the seats, will increase its weight to 244 lbs. The boat is able to comfortably accommodate a maximum weight of 900 lbs. This weight capacity makes it easy to carry two above-average weight adults, as well as whatever gear you will be taking.
Check out the Hobie Pro Angler 17T on Amazon!
Moving the Hobie Pro Angler 17T on and off water is not expected to be a problem. Welded on the farthest end of the bow and the stern are two handles, both grasp-enhanced to reduce injury and strain as you carry the kayak.
Any Special Features That Come With the Hobie Pro Angler 17T?
The Hobie Pro Angler 17 T comes equipped with Hobie's signature MirageDrive 180 pedals, that are not only easy to use, but also efficient in providing speed control. The fact that there are two pedals means that in tandem mode, you can enjoy a fast kayaking experience.
The pedal also allows the kayakers to engage their hands on rudder control and fishing, instead of actively trying to paddle. Should you get tired of pedaling, you can choose the traditional method of paddling to get around. The Hobie Pro Angler 17 is equipped with two vertical paddles and a T-handle that can be affixed to the paddle for easy handling.
The Hobie Pro Angler 17T has a commendable three-way seating formula. In tandem position, both kayakers can seat facing forward (in-line) or facing each other (social position). Solo position entails the seat being placed at the hull's center.
To make the various seating arrangements possible, the kayak is equipped with three pedal slots; one in front, one in the middle and one at the stern cockpit area. For the Hobie Pro Angler 17 T solo arrangement, the kayaker uses the middle slot. While in-line, the front kayaker's seat covers the middle slot with the paddler using the front and back pedal slots. As for the social seating arrangement, the kayakers utilize the middle and stern slots.
Check out the Hobie Pro Angler 17T on Amazon!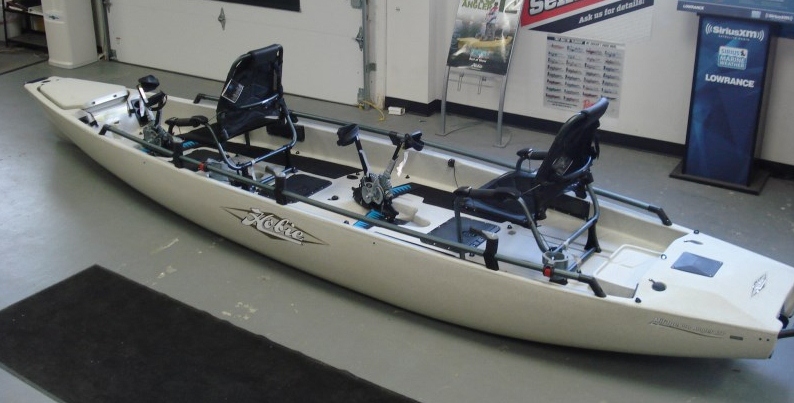 The Vantage XT seats are standardized for both positions on the Hobie Pro Angler 17T. Made of meshed fabric, reinforced on an aluminum frame, the seat has a 4-way adjustability feature. This allows for crouching, full seating and full standing positions. This is especially important for the provision of anchorage for anglers during fishing. The detachable seats are also suitable for use on the beach or camping sites.
The Hobie Pro Angler 17T comes equipped with a rudder to assist in maneuver control. Both kayakers have rudder controllers on their left-hand side (in-line seating arrangement). The rudder control levers are easy to use and have a rubber grip to enhance grasp. This model of kayaks introduces the H-rails, which are meant to be used for various purposes, including attaching your rod holders. You can also hold on to the rails for extra anchorage while fishing. These are easily removable, for transportation purposes.
The hull of the Hobie Pro Angler 17 T comes ready with a set of H-Rail mounting plates, allowing the rails to be installed without drilling more holes in the hull. For anchorage when standing, the floor of the kayak has grip pads, both at the front and back.
The boat is also trolling-motor ready, with a battery storage area, located at the stern. To avoid water logging and listing, the Hobie Pro Angler 17 T is fitted with air draining grommets.
Check out the Hobie Pro Angler 17 T on Amazon!
Storage
As an angling vessel, the Hobie Pro Angler 17T has lots of storage space, maybe even more than enough for your fishing expeditions. As a precursor, this vessel is fitted with 10 horizontal rod holders and 2 molded-in vertical holders. The H Rails also have 2 racks meant for rod storage.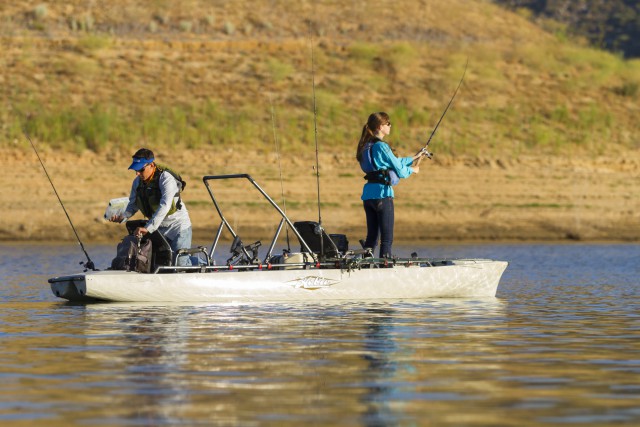 The cockpit floor is fitted with three large rectangular twist hatches. These hatches allow for the quick retrieval of certain items you may need. The upper bow area is fitted with a large front hatch fitted with a liner, which makes it ideal for the storage of ice and fish. The liner can also be removed if you should need to clean the hatch.
With an additional two under seat tackle storage areas, you are assured of more storage than you can ask for. For your personal, small item needs such as cell phones, you get two meshed stowage pockets next to each seat. Additionally, the Hobie Pro Angler 17 T comes retrofitted with two molded-in cup holders.
With so much information discussed regarding the Hobie Pro Angler 17 kayak, we went ahead and made a succinct list of its pros & cons:
Pros
The Hobie Pro Angler 17 contains comfortable three mode seating capability
Good pairing vessel for teaching new kayakers and anglers
Efficient control system, in the form of pedaling/paddling capability and rudder control
Very light, which allows for respectable speed levels
Able to add a small trolling motor, ideal for tracking
Already mentioned in this Hobie Pro Angler 17 review, there is lots of storage space
Check out the Hobie Pro Angler 17 T on Amazon!
Cons
Pricing for the Hobie Pro Angler 17 is a little bit on the higher end
Open cockpit may be prone to cockpit splashes in unsettled waters
Controlling the Hobie Pro Angler 17 can be a challenge, especially in solo mode, due to the multiple controls
Vantage XT seat can get quite stiff when one sits down for long period of time
Hobie Pro Angler 17T Review Conclusion
Serious angling is never an easy task. However, with the Hobie Pro Angler 17 T, that load is reduced considerably. The boat is suitable for all skill levels of anglers. Nevertheless, the controls can be tricky for kayaking beginners. Despite this, the Hobie Pro Angler 17 kayak is great to practice with, once you start getting acquainted with the controls.
Check out the Hobie Pro Angler 17 T on Amazon!
If you are looking for a fun way to go angling, without reducing the effectiveness required for an abundant catch, the Hobie Pro Angler 17 is the kayak to choose.